Sifu Review: One of the Most Thrilling Fighting Games In Ages
Kicking ass has never felt so good.
Fighting games are typically hit or miss for me since, personally, I can't ever find one that isn't either way too easy or way too complex. The "Arkham" style of 3rd person-action gameplay where you press x or square a bunch and then press a parry button as soon as you see the enemy telegraph their attacks always stood out to me as disguising itself as something badass, but actually is just really simple and it doesn't engage my brain.
I preface this review with my own personal gripes with the fighting game genre to help the reader fully understand why I love Sifu so much. The rouge-lite elements that the entire combat loop is based around are so fine-tuned, making every single mechanic feed into the overall experience of learning how to overpower your opposition.
Sifu is the game that I have been coming back to the most this year. Not Elden Ring, Fortnite, or Halo, but instead this AA-developed fighting game with only 5 levels. It's easily the most addictive out of the three, and I dont plan on stopping after this review either.
The Story
In Sifu, you are on a revenge mission straight out of Kill Bill, where you are tracking down 5 other fighters who wronged you when you were younger, and now it is time to take them all out.
The game is heavily inspired by martial arts movies, and if that's something you're into, there are a lot of welcomed references that are really fun to play through.
Like most games, the point is the journey. Sifu's journey, however, is not exclusive to the 5 levels that exist. It is found in the process of mastery.
The developers are throwing a bag of tools at you and telling you to master them. If you don't master them, then you can't beat the game. And after you beat the game you'll ask yourself "did I really master it?"
It's difficult to describe Sifu without talking about the gameplay structure since everything in the game connects back to the core gameplay 'gimmick.'
The Death Counter and Aging
In Sifu whenever you die, you get older. You start the game at age 20, and you get a game over screen when you reach your 70s. Whenever you die (at 20 i.e) you can unlock new combo attacks and abilities, and when you wake up again you get 1 year added to your death counter and you age by 1 year (21). If you die again, your death count will be 2, which will make you age by 2 years (So now you'd be 23). The more you die, the older you get. The older you get, the more damage you do but you have less health and you can't upgrade certain abilities. The only way to reduce the number on your death counter is if you defeat a powerful enemy. However, your death counter carries throughout levels, so even when you beat a boss and you have a death counter of 5, that's the death count you start with on the next level.
It's a lot to digest, but every choice that went into this game is well thought-out and balanced.
As I mentioned before, there are 5 levels (which I will talk about in detail later in this review), and when you get a game over screen you can start any of the levels you have completed. But the age you start the level at is determined by what age you were when you finished the last level. So, for example, you start the game at 20 years old, and on your first run you die a couple of times and then beat that level at 30 years old. Any time you start level 2, you will start at age 30 until you beat the first level at a younger age.
Sound Design
I played Sifu on a PlayStation 5, and I think my experience was genuinely improved due to using the DualSense controller. I wouldn't say it's necessary, but the haptic feedback just gives a specific sensation when you do certain actions. Along with the sound design, I can't think of a game with more distinct feedback. Whether you hit enemies with a bamboo stick or a metal pipe, you're going to hear, and in turn, feel the difference.
You Are the Main Character in a Martial Arts Movie
Many times during my many playthroughs, I found myself playing as if I was an action hero in a martial arts movie. Since the game lets you learn the ins and outs of the combat just through so much trial and error, when you eventually become this unstoppable force that doesn't even need to use the focus attacks to get a breather, it feels so much more rewarding. There were so many moments that I could imagine happening in a movie like The Raid.
You can trigger specific animations depending on where you are in your environment - which helps the combat feel so much more grounded. Instead of your character just floating to your enemy for a brief second to finish them off, you automatically interact with the environment around you, depending on where you're standing. Whether you're smashing heads onto walls or edges of tables, it all looks and feels great. I can't imagine the work that must've gone into programing these very specific finishing animations.
Enemy AI
The enemy AI may seem kind of simple at first, but as time went on in my play-through I found more to appreciate. Enemies can accidentally hurt each other, for example. If one swings a bat but you manage to dodge, it could very well hit the person next to them. They can throw items and other enemies might accidentally step in the way. You can use certain moves to maneuver enemies around you so you can position them to get hit instead of you. I don't even know if the developers put this stuff here on purpose, but I found it as a valid gameplay option nonetheless.
As you progress throughout the game, enemies get stronger and take less damage and they'll start to gang up on you. This solves one of my biggest gripes in fighting games: where hordes of enemies will just sit back and watch their friends get beat up so you don't get overpowered. That happens in Sifu as well, but even then enemies telegraph their attacks so quickly that your reflexes might not always save you.
Some enemy stances can be broken super quickly if you hit them when they dont expect you. You can even pull this off in combat. While fighting an enemy, quickly snap in the direction of another enemy around you. Usually, a kick works best and will knock them to the ground.
The Camera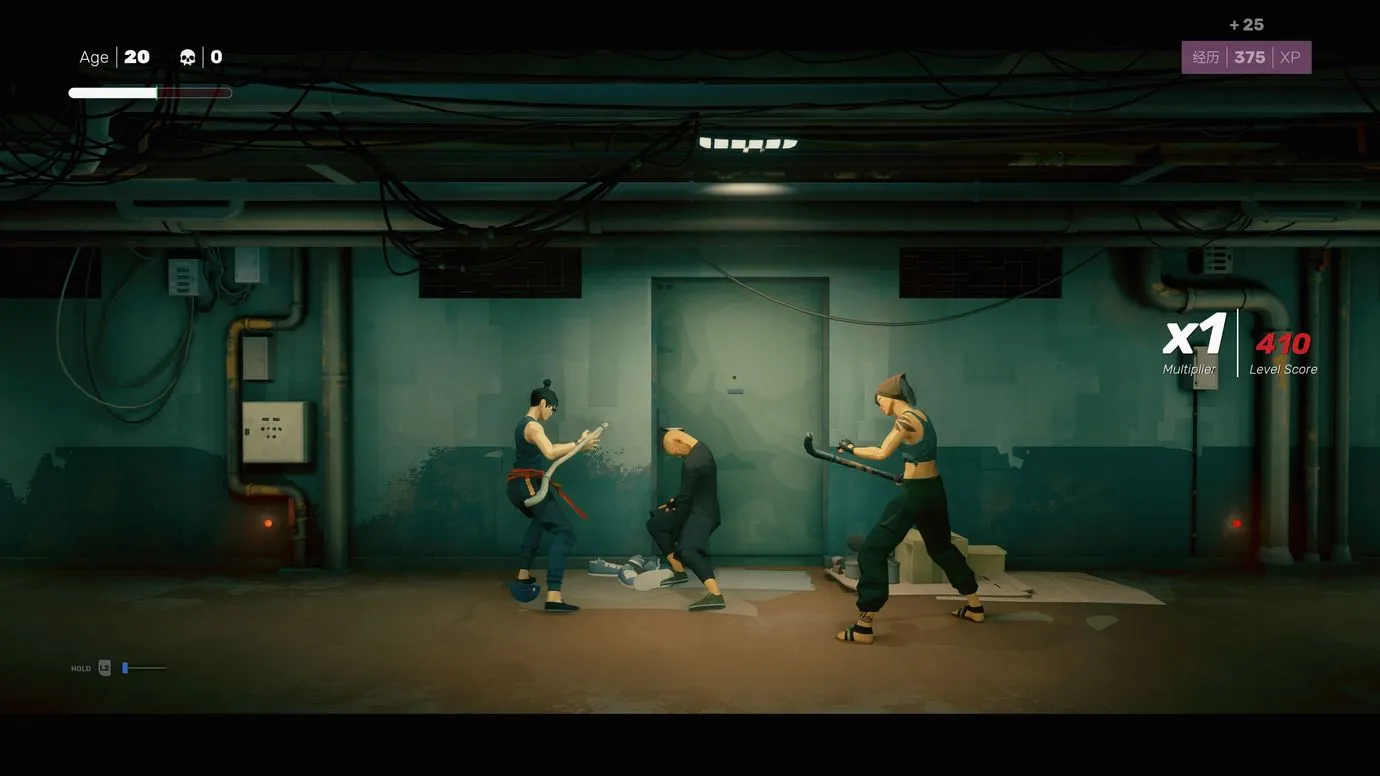 The camera in Sifu is a mixed bag. On one hand, I wish there were more cool uses of perspective. In the first level, there is a clear homage to Oldboy with the hallway fight. I really liked when the camera would be way back so I could see all of my enemies around me, and I wish there were more moments like that. Perhaps those camera positions were used sparingly to not give the player so much of an advantage.
And on the other hand, the camera is fine. Most of the time. There were a couple of instances when I was positioned in a spot where I couldn't get a good view of my surroundings, which would result in me getting killed. It is really unfair especially in a game with this much consequence if you mess up. However, it was still a rare occurrence in my playthrough. Most of the time the camera is at a pretty good distance that lets you see your surroundings with little to nothing blocking anything.
Levels and Art Direction
Every single level is meticulously crafted. Not in small details, but in how it lays the enemy AI out, upgrade stations, and shortcuts. In the first level "The Squats", there's the main way, and there's a shortcut you can unlock that skips a couple of enemies. The shortcuts are present so you can get to the end of the level faster just to beat the boss. However, if you take these shortcuts you might be skipping an upgrade station, and all the potential XP you could use to upgrade and permanently unlock skills.
Some of these shortcuts require you to fight harder enemies, which could leave a big impact on your death counter if you're not strong enough to fight them. The risk v reward systems at play are really effective at letting the player consider different ways to play and recognize their own strength level. In the third level "The museum" you can take a shortcut in the beginning straight to the boss if you want. But you won't be able to use any of the upgrades you could've come across had you just played the entire level.
Every level has a distinct style, borrowing from the themes of each boss you'll encounter on your search for revenge. All of the art designs for these levels really start to ramp up after the first level, which is the blandest compared to the other four. "The Museum" in particular was my favorite level in terms of art. Not even just because it is literally a museum with art pieces in it, but the level quickly turns into something a lot more surreal as it goes on. There are lots of colorful moments that really boost the game's cinematic feel. This level also has some really interesting storytelling regarding the boss you fight. Tons of hints that you will pick up on as you replay the level, giving this level a 'level' of depth and lore that isn't as present in the other bosses.
Will You Enjoy Sifu?/Final Verdict
There are going to be moments during your playthrough where you calculate how many years you can afford to lose. You might even completely restart levels if you feel like you've screwed up to a point you can't come back from.
This game will piss you off, but I implore you to take the time to master it. There will be a moment where the combat just clicks for you. Remember to dodge, not just evade, as dodging is essential to the combat and there are almost no workarounds. You dodge by holding the Left bumper (the same button you use to block and parry) and moving the left stick in one of four directions. Each direction can dodge specific attacks and it will be most useful when fighting bosses. This has been the biggest complaint that I've seen online, and it was something I struggled with since the game tells you how to dodge but it doesn't tell you that there are other ways to dodge, which left me stuck on the 3rd boss fight in particular.
If you love martial art cinema, play Sifu. If you want to feel like a badass, play Sifu. and if you like a single-player challenge that is based on actual skill and not some skill tree, play Sifu.
Because, again, you don't get better just because of the skill tree. You get better because you practiced, and I think that's an important lesson that should be taught, especially in the form of video games.
I think Slo Clap deserve a slow clap of applause because they really did the impossible by making about 4 hours of content the most addicting thing I've played all year. I think these developers are really talented and I am so excited to see what they could do with a bigger budget.
Gamelancer gives Sifu 9/10
Sifu is available now on PlayStation 4, PlayStation 5, and PC.