Gordian Quest Review: A Deck Builder With Bottomless Depth
A deck builder for little D&D freaks.
Gordian Quest is a densely-packed deck-building action RPG that never seems to run out of robust detail in its multitudes of gameplay features. And while the intricate - some might say convoluted - game mechanics might not be for everyone, those who enjoy card-based battling with a heavy dose of Dungeons and Dragon sim will find themselves, not overwhelmed, but rather engaged by the seemingly bottomless depth of the gameplay.
There's a lot about Gordian Quest that may have caused me to pass it by. To be quite honest, I've never been a huge fan of deck-building RPGs. I like CCGs/TCGs like Magic the Gathering and Ascension, and I like RPGs. Let's not mix them up, ok? Or at least that's been my attitude. A deck-building system in an RPG just always seemed like a lazy way to copy/paste in a cookie cutter card game and just hang a few character animations on top of it rather than building a REAL battle system.
There's also not much by way of story and character in the game - which I'll discuss more in-depth later - and that's usually a deal-breaker for me in a 30+ hour RPG. I need that story to sustain me for that long.
I'm glad to say, though, that I was wrong about deck-building battle systems, and a LOT of hard work and dedication went into making Gordian Quest a lot of fun for players who love customizing, getting hyper-nerdy with their party-building, and long for a Dungeons and Dragons-style experience on your PC (or console in the future). And, because of this, not only will you not need an in-depth story, it would have actually gotten in the way.
The Basic Premise
Gordian Quest takes place in a fantasy-inspired magical realm not unlike a setting you'd find in a Dungeons and Dragons campaign. It lacks the whimsy and convoluted plot of a fantasy JRPG but also is a little less tepid and self-serious than Game of Thrones. It sits somewhere in the middle in the realm of "light fantasy fun with just a touch of spookiness" (I'll explain the spooky part later, because that was one of the most surprising and enjoyable aspects of the game).
And right away at the title screen you are gobsmacked by the number of options you have and the sheer amount of content this game seems to pack.
Three Gameplay Modes
Campaign Mode - the main 15-30 hour story mode. You can play the game in Rogue-Lite (if your entire party dies in battle you have to start the game over), Rogue-Like (characters can't ever be resurrected when they die in battle. If all your characters die you have to start the game over), or Standard Mode (just a typical RPG).
Realm Mode - A fast-paced casual play mode that pits you against increasingly difficult enemies one by one. You can play this in "Quick Run" or "Endless Run" mode so you can either face a finite stretch of enemies to see if you can make it to the end, or just battle endlessly until you're done.
Skirmish Mode - 1v1 online dueling.
For the purposes of this review we'll cover the Campaign Mode - though you can apply my review of the battle system to both the Realm and Skirmish modes. The game just released so it can take a little bit of time to get matched up with someone for 1v1, but otherwise it's great fun battling against fellow players.
Choose Your Character
You start out by choosing your Player Character. You have a choice between Lucius the Swordhand (warrior), Catherine the Cleric, Bertram the Artillery Commander (long-range weapons), Alphonse the Scoundrel (thief), Pierre the Force Mage, Ida the Druid, Naran the Bard, Kudo the Warlock, Jendaya the Golemancer (controls giant creatures), or Stroud the Monk.
The character you choose will determine your play style during battle and the type of deck you'll build - but don't worry because no matter who you choose, you can add any of the other characters to your party at one point or another in the story. Your main Player Character will just determine your primary strategy during a fight. Will you strong-arm the enemy with brute force while clerics and mages support you, will you strategically pick foes off with magic spells while your swordsman flanks them from the sides, or will you weaken the baddies with status spells and then finish them off with long-range attacks? There are 100s of combinations and ways to play.
Once you choose a character, you'll also choose their starter deck. Even within each character, their fighting style can be customized based on which type of deck you build. I did my play through as Lucius, and you can choose to play him with the following decks: Swordhand (brute force style), Duelist (more defense and parrying cards), Veteran (Balance between attack and defense), or Tactician (mostly defense and status enhancing cards with a few powerful attacks that can be enhanced through strategic buffing). You can also play in Easy, Normal, Hard, Nightmare, and Torment modes.
I played on Hard mode, which was challenging enough to be fun but not too challenging to be frustrating.
The Battle System
Gordian Quest's battle system is super robust. If I'm being perfectly honest, after 30 hours of gameplay I feel like I still didn't completely wrap my mind around all the skill-building, status enhancers, and deck customization that you can put into this thing.
As I mentioned before, the game's battle system is based on card decks. But there's also an element to the battle system that you don't see in a lot of these card battlers. There's a strategic element to the physical battleground and positioning of characters that goes beyond the cards.
Your party stands on a grid and occupies the left side of the screen. The enemies spawn into the right. As you begin to battle, each character in your party takes a turn. You have a certain amount of AP you can spend on playing cards during your turn - you can play attack or spell cards to chip away at the enemy HP, cast status effects on yourself or the enemy, use healing potions on each other, or move around the battlefield.
And that's what's really interesting about battling. You're kind of playing two games at once - a strategic card game where you ration AP to deliver attacks efficiently while maintaining your own party's health. But also a tactics-based dance around the grid. Certain attacks can only be made when you are within a few squares of an enemy on the grid. Some can only be done when the enemy is directly in front of you. Some can only be done when you are further than 2 squares from them. Healing can only be done when you are directly adjacent to your ally. Some defense cards can be applied to every ally in a single row of the grid. Your placement on the battlefield has a profound effect on the outcome and will have you juggling not only cards but also your party's physical location in order to emerge victorious. But be careful because moving also costs AP.
For me personally, I think this is what really pushes the gameplay loop over the line and makes it very fun and addictive. As I said, I've never been a huge fan of card-based battle systems (Steamworld Quest, Teppen, etc) and the addition of the battleground tactics mechanic elevates the whole loop.
But that's not all. In addition to the cards, you also have an in-depth weapons and equipment system - weapons, armor, shields, and status-enhancing items that can be bought or found throughout your journey that you equip to each character in order to boost their performance in battle.
More Than Just Cards
Then there's the skill tree - a point-based system where you spend skill points to grow your HP/AP and strengthen cards.
You can also add performance-enhancing gems into your weapons and items with a socket system that provides an even deeper layer of customization to battle.
The battle system, much like most of the game, takes an "everything but the kitchen sink" approach to its feature offerings.
One little gripe I have with the game is more aesthetic than anything. I kind of wish the sound design and user interface of all of these menus, screens, and the battle arena were more polished. One of the things that really helps with level grinding and navigating through dense menus to upgrade your characters is when every button press, XP increase, and level gain comes with endorphin-inducing sound effects and player feedback. Take a game like Persona 5, for instance, that is so immaculately designed that just the menus alone are fun to navigate. I'm not expecting Persona-level design values from a small indie game, or course, but I do think Gordian Quest is a little lacking in this regard. It's not a bad UX by any means. It just lacks those little touches that really keep you locked into the gameplay loop.
The Story
The basic gist of the story is that the countryside has been overrun by the undead. The people of this world have holed up in tiny villages as zombies and monsters ravage the terrain - all controlled by some kind of dark magical force. You, the player character, arrive just in time to help secure villages, take back strongholds from the undead scourge, and quest to uncover what evil force is causing it all.
And, honestly, there's not much more to it than that. There's very little plot to the game other than tentpole narrative moments that are largely there to move the game along and give you a goal and a reason to fight. And there is little to no actual character development. In fact, other than a few moments here and there, the characters in your party do not talk at all. They passively stand by as other characters inform them of missions and unfold the threadbare storyline.
As I dug into Gordian Quest, the complete lack of story began to worry me. I had been hoping for an epic fantasy tale with drama and maybe a relationship-building mechanic between the characters. I was immediately disappointed to see that this game was mostly about battling and deck-building. No dialogue between characters, no characters reacting to events, no twists or revelations. Just characters explaining to you the loose reason why you're going on your mission.
However, as the game went on I started to slowly realize that I wasn't playing the game I thought I was. I wasn't playing a standard RPG with a card battle system. I was playing a full-on D&D sim with bottomless customization where you can truly put yourself into the shoes of the main character and flesh out the story in your own imagination as you play. The story is intentionally vague and barely-present because you're meant to feel the freedom of exploration first and foremost. In fact, an actual story and character development would have bogged the experience down. After playing through the 30 hour game, I now see that developers Mixed Realms intentionally left this aspect of the game undercooked so that we could experience something similar to what it feels like to sit down with a group of friends and play a good, old fashioned pen and paper RPG.
There is one area, though, that I feel is hurt by the lack of narrative development. The characters are largely generic and interchangeable except for what they have to offer in battle. However, throughout my play through I felt little incentive to ever switch out party members from the first 4 characters I gained. Those were the ones I started out with, they were the ones I was used to playing with, and they had the highest levels. Nothing about the other characters made me want to try them out. Perhaps if there was a little more work put into giving them interesting things to say during story beats, or if there was a place that the characters could interact with each other, I might have had a reason to rotate my party. But, as it stands, I played the entire game with the first four characters that were made playable to me and the others just rotted away in whatever purgatory realm unplayed characters go to when they aren't in your party.
The Other Stuff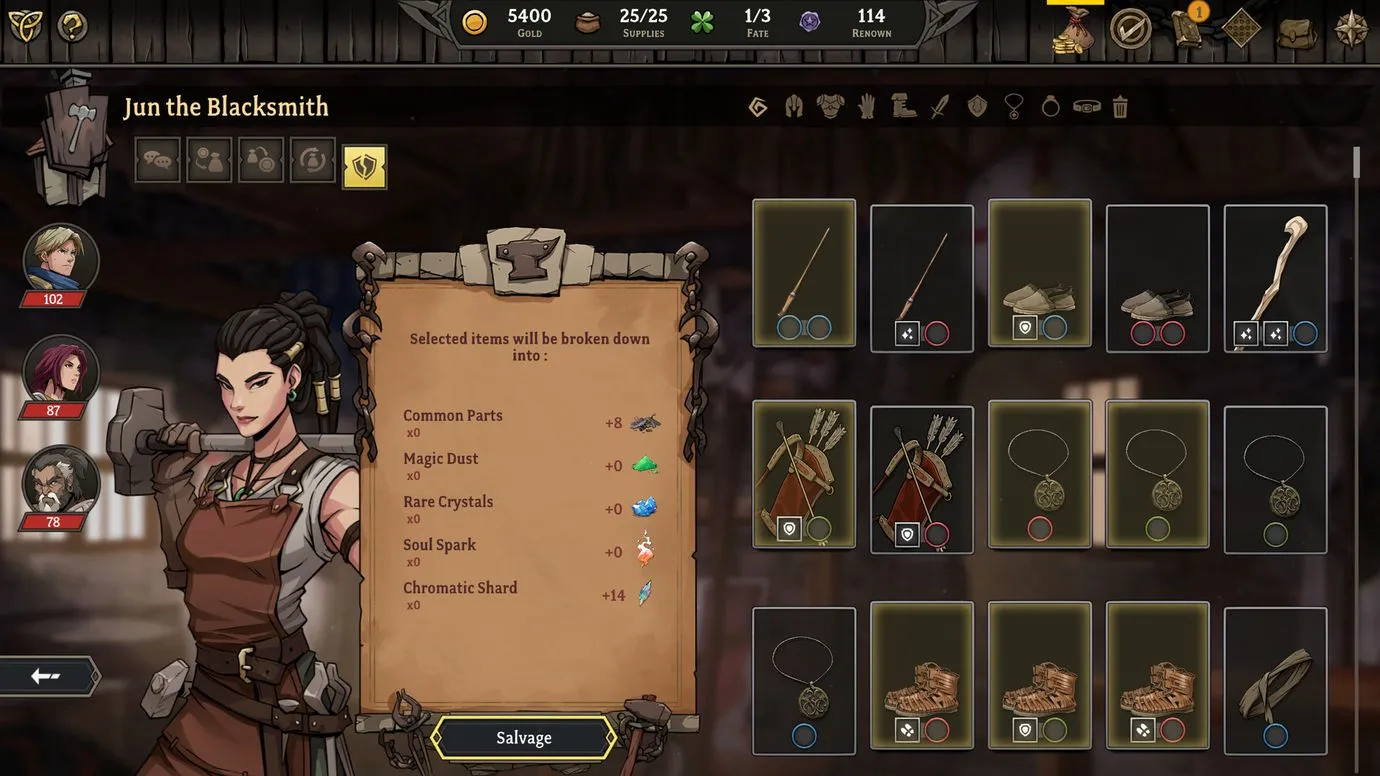 So there's not really a story, the characters don't say anything, and - oh, I forgot to mention - you can't actually walk around and explore anything. The game is composed of a home base where you can click on various shops and houses, and then maps where you can click on areas to go to your next mission. You are never actually in control of your player character other than in battle.
So is that all the game is? Just battling and navigating customization menus?
Nope. And I think this is where Gordian Quest gets really interesting and fun. At least if you're a weird little D&D freak like me.
In addition to battling, there are also several other modes of play. I'll break them down here:
Dungeon Crawling
Frequently during a mission, you are guided to a dungeon on the world map. I'd say that, other than battling, this is the primary gameplay mechanic. Once you descend down into a dungeon, you move through a labyrinthine map that is almost like the board of a board game. You move from space to space - some of them have items, some of them have enemy encounters, some of them have mystery events. Every time you move, you use up some of your supplies. If you run out of supplies you can't move anymore and you have to return to the beginning of the dungeon. But you can find more supplies, and also create warp points on certain spaces where you can teleport back to home base and stock up on supplies and heal.
The dungeons are mazes where you essentially have to find your way to the goal without getting lost or stuck. Eventually you'll get to the end, fight a boss battle, get a little bit more story, and return home to receive another mission. The dungeons are fun to navigate and master. While not quite as good as controlling an actual character avatar through a real dungeon environment, they provide a nice little break from the battling to solve a puzzle or two.
Treasure Hunting
Periodically both on the world map and in dungeons you can stumble across a treasure hunting space. When you move to the space, you enter into a treasure map screen. The screen has various treasures, buildings, and enemies. You only have 4 moves across the map. You have to strategically use these 4 moves to land on as many of the treasure areas as you can without running into too many enemy encounters.
If you run into an encounter you lose health (these aren't actual battles. You just automatically lose health when you land on an encounter), if you run out of moves you have to end the mini game. Sometimes you land on a space that gives you more moves or resets the entire game with different treasure. The main point is you're just trying to find as many items and as much gold as possible before you run out of moves.
Camping
Throughout the world map and in some dungeons you can land on a campsite space. Usually in RPGs, a campsite is just a place to rest and regain health. But in Gordian Quest, it's its own entire mini game/play mode with a surprising amount of detail.
How camping works is that you have a certain amount of hours before daylight. You are dealt a hand of cards. These cards all have different activities and actions. Some of them are training cards, some of them are exploration cards, some of them are social interaction cards. Instead of AP, each card requires a certain number of hours. You play each card on one of the characters in your party.
The training cards can increase their strength or skills or upgrade attack cards, the exploration cards can help players to find items, weapons, and gold, and the social interaction cards can pair up two characters to level up their relationship so they are stronger together in battle.
Each turn of camping is an hour. You play all the cards on each character in your party and then end the turn. An hour goes by. Some of the cards require multiple hours. So if you play a training card on your warrior that requires 3 hours to complete, you can't do anything else with him for three turns.
You keep doing this until you are out of hours, and your goal is to level up your characters and find as many items as possible before the sun comes up (not sure how staying up all night training and searching for items helps you to rest while on a long, tiring journey, but I digress).
The camping is surprisingly fun, and honestly you can spend a solid 30 minutes on one camping session alone as you sit and strategically decide which cards to play.
Narrative Events
This is probably my favorite part of the game aside from the battling. On certain spaces on the world map and dungeon, you can land on a surprise event space. This is really where the D&D influence is obvious. These are text-based narrative events where a scenario is described with words on the screen. The text will describe you walking into a spooky castle full of dead bodies. You hear a noise coming from the next room. What should you do? Should you enter the room, swords-drawn? Or retreat and head in the opposite direction?
You will be promoted to decide what decision to make with multiple choices. Your choice will lead to the next part of the encounter. You might run into an ancient warlock, or a pack of snarling beasts. Or maybe you just wander upon a huge treasure chest. All along the way you are given the choice of what to do next, and the encounter is written out in a text story that is very reminiscent of a dungeon master weaving a scenario during a tabletop RPG campaign. Ultimately the encounter will end with a battle, or you finding some items, or receiving a random status effect like poison. Sometimes nothing happens. Either way, these events feel very authentically like a classic RPG scenario playing out on your PC, and the ability to carve out your path one decision at a time is very gratifying.
Lastly, surprisingly, these events are actually genuinely kind of spooky. Unlike the rest of the game which is very much fantastical in tone, these events are written to contain horror and suspense, and at times can actually be scary. Out of all the features of the game, I was always excited when I stumbled across one of these events. If anything, I wish there had been a lot more of them.
And, while any one of these gameplay modes probably wouldn't be enough to carry an entire game on its own, the fact that Gordian Quest is loaded with an insanely detailed battle system AS WELL AS 4 other similarly detailed gameplay mechanics really leaves you reeling at just how much content is packed into this game.
The Final Verdict
Take it from me, someone who doesn't usually play these kinds of games. There is so much about Gordian Quest to enjoy, and it'll keep you occupied for hours. Personally I played it on my Steam Deck, so it was a great handheld companion. If you haven't yet gotten your hands on one, you can play it on PC now - plus Mixed Realms recently launched a Kickstarter to get the game ported to all major consoles in the near future, and it's looking like it'll be a success.
My issues with the game are minimal. I think the UX should be a little more polished, I wish there was more reason to develop all of the characters in battle, and there's a part of me in the back of my mind that still wishes there was a tad bit more/better of a story and that the characters had more…character. But overall it's a great experience.
If you like deck building, RPGs, Dungeons and Dragons, deep customization, and indie games that provide way more content than their price tag suggests, you should pick up Gordian Quest today.
Gamelancer gives Gordian Quest 7/10.