We Compare Remakes to Their Original Games
Let's take a look at this recent remake trend.
The lines that separate remakes and remasters can get blurry every now and then. Sometimes we can be delightfully surprised when a remake exceeds expectations and becomes the definitive way to experience that game. Sometimes remasters are so bad that you'd be more willing to bust out that old GameCube or PS2 than play the supposedly new and improved version. Sometimes people say that we have too many remakes right now, and it's either a symptom or the cause of a lack of originality.
I think remakes and remasters are important and essential for game preservation. The more people who get to experience what gaming has to offer the better. There are plenty of options in today's world for consumers to choose how they want to game and companies want to entice consumers by advertising what's new. New tech, improved textures, and higher frame rates will always be buzzwords for marketing. However, there is still a large demographic of gamers who play Smash Melee on GameCube on CRTs.
Updating the gameplay should be the number one focus when you choose to remake a game. A key component is building an old game from the ground up, near-identical to the original but with modern improvements that go beyond just making the resolution better. Maybe you'd create an entirely new engine for the game. How do the controls feel? What are some quality-of-life improvements that could make the experience more comfortable? These are the things I look out for and value in a remake.
A remaster is a standard update for a game that's been out somewhere in that sweet spot of 5-10 years. It can be a quick way for a publisher to keep consumer interest in their game for longer and expand its lifetime sales. It's also a great way to port a game to the next console generation.
So, with all that said, what are some good recent remakes and remasters? And what are some really bad ones?
Tony Hawk's Pro Skater 1+2
With a game as arcadey and as fast-paced as THPS, it would've been in poor taste to change any fundamental gameplay elements. Especially when the core gameplay is why people cherish the game in the first place. This is why just combining the 2 main games for 1 price, updating the fidelity, and re-building the game from the ground up is the perfect way to bring fans back for nostalgia and help introduce the game to a new generation. It doesn't try to be something so next-gen and improved that it misses the whole tone of just skating, listening to punk rock and pop-punk, and getting hit by crazy taxi drivers. Any problems that the original port might have had arent apparent, and in doing so, it gives gamers the definitive way to play the game.
The Legend of Zelda: Link's Awakening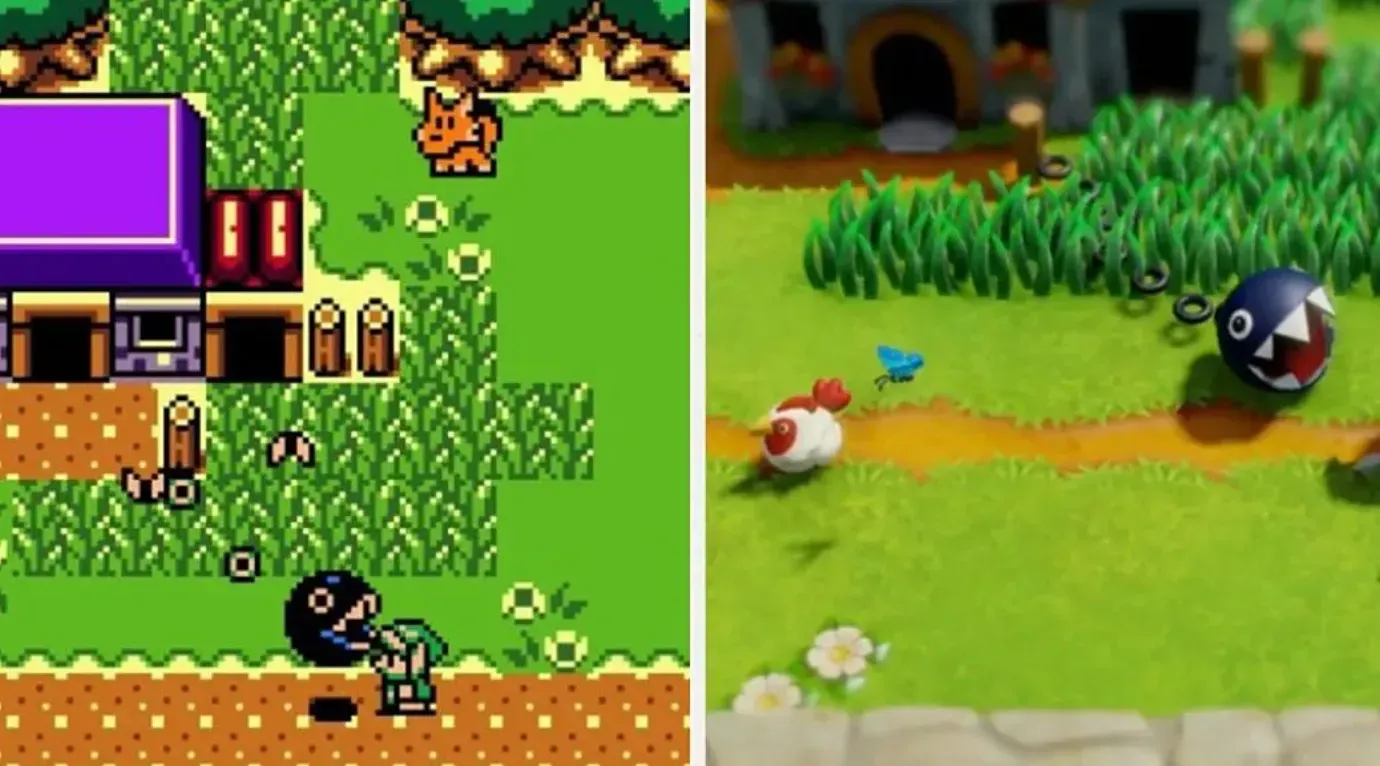 The remake of The Legend of Zelda: Link's Awakening is a great example of changing your game's art style for the better. Since the original was only on the Gameboy and was held back in terms of art style by the hardware of the time. And the new look of the remake is leagues above the original in terms of style. Every object has this slight shine as if they were all plastic toys, and the soundtrack comes through and adds an atmosphere of playfulness that most Zelda games don't have. While it's annoying to some that Nintendo would choose to remake a Zelda game from the Gameboy instead of giving a proper remake/port to Ocarina of Time or Majora's Mask, it's still cool that Link's Awakening is now more accessible.
The Legend of Zelda: Skyward Sword
On the topic of Zelda games, Skyward Sword on the Wii was definitely an odd choice to remaster. Most of the changes are minor, and some quality of life improvements made to the game don't really justify bringing a 10-year-old Wii game back for a full $60. You can use button controls instead of motion controls in combat now, the game is in HD 60fps, you can lock on to enemies, fast forward through dialogue, and most cutscenes can be skipped. All good improvements, but still, personally, does not justify the 60$ price tag.
Super Mario 3D All-Stars
On the topic of $60 Nintendo games, Super Mario 3D All-Stars is probably the most egregious in terms of what you get for the price. Super Mario 64, Sunshine, and Galaxy are 3 of the most iconic 3D Mario games all in one package, sold for a limited time only to create a false sense of immediate demand.
This was a very disappointing package for long-time fans due to a lack of quality of life improvements/options to bring these games into the Switch era. The ports were so lazy that Nintendo Reportedly just used Dolphin Emulator to run Mario Sunshine and Galaxy. Improvements like camera control for 64 were nonexistent, and Sunshine's Flud mechanic was less effective since the original game relied on the analog triggers of the GameCube controller to manage how much water you sprayed. Super Mario Galaxy is the only complete package as they added touch controls for shooting and collecting star bits. They kept the motion controls but also gave players options to press 'Y' to spin if they didn't want to shake the controller. Overall a pretty sad package, but we all bought it anyway because at the end of the day we're all shills for nostalgia.
Resident Evil 2, 3, and 4
Capcom has been remaking their classic survival horror games in their new RE engine for a while. When Resident Evil 2 got remade in 2019 it was big. All of the changes made were for the better, the story was easier to follow, and the game still maintained the unsettling tone of the original. Not a whole lot to say about this game because most people agree it's one of the best in the series.
Resident Evil 3 Remake is also somewhat of an improvement over the original but didn't compare to the tone of its predecessor. It's also a way shorter game that focuses more on action instead of survival horror, making some fans disappointed. However, with the recent announcement of Resident Evil 4 being remade, a lot of fans are excited for a return to horror-focused gameplay with the sprinkles of roundhouse kicking action.